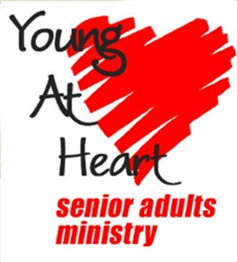 If you are 55 years old or older, some people call you senior citizens, empty-nesters, senior adults or mature adults. At Elkin FUMC, you are YOUNG AT HEART adults! You are "Helpful, Experienced, Active, Reaching-Out and Thankful" working in the church and in our community. Many of you attend Sunday School, Bible Study Classes, Sing in the Choir, Ring Handbells, are Ushers, Greeters, Lay Readers, Teach Sunday School Classes and VBS for Children, Serve on a Committee and participate in Service and Missions.
Yes, you are an "age-group," like our children or youth, but more importantly, you are a vibrant, contributing part of this Church. HEART Adults at Elkin FUMC are devoted to spiritual growth, service, fellowship, education and living more active and exciting lives!
We are excited about what God is doing at Elkin FUMC, both in the life of our congregation and in our community.